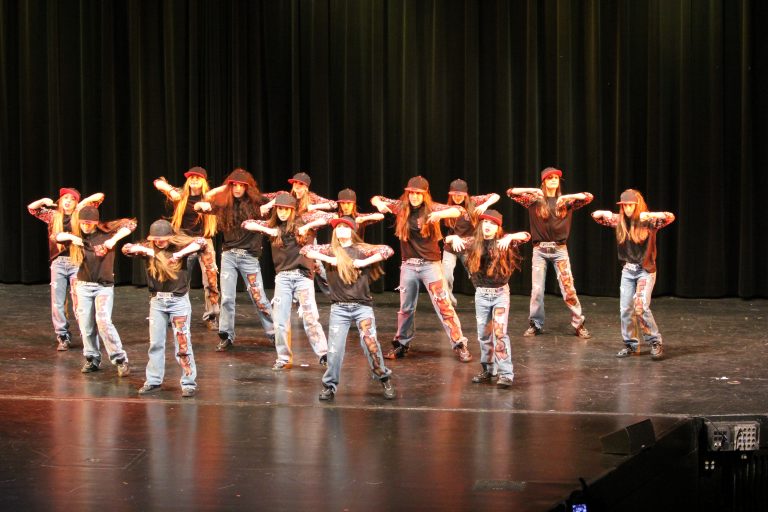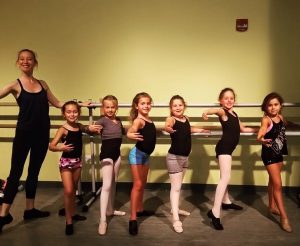 Recreational Dance
All classes participate in spring recital unless otherwise stated and require a costume purchase. Participation in the recital is optional.
Acro:  Learn elements of acrobatic dance, focusing on flexibility, strength, balance, limbering, tumbling, and more.  Class emphasis is geared towards developing technique required to perform balances, tumbling and partner/group tricks on stage to enhance a complete dance routine.
Contemporary Ballet – Ballet is the basic foundation of all dance forms. It teaches proper placement, carriage, grace, and poise. Barre exercises develop strength and flexibility, while center work allows the student to practice classic dance principles. Ballet is strongly recommended as a compliment to other classes as the terminology and placement learned in ballet carries over to all other forms of dance. This class will be taught in a more relaxed atmosphere using current music and modern approach.

Ballet/Jazz Combo – A great way for gaining a foundation in both dance disciplines. Barre work focuses on alignment and terminology followed by a jazz warm-up and exercises across the floor. Class reinforces placement and floor work.
Breakdance/Pop-Lock – Break dance or breaking is a street based dance that incorporates intricate body movements, coordination, style, acrobatics, and aesthetics.  Also known as b-boying or b-girling.  Elements of Pop-Lock will also be covered.
Broadway Dance – This class teaches students original Broadway choreography from a number of popular Broadway shows. Learn the styles of famous choreographers like Bob Fosse, Susan Stroman and Jerome Robbins. This class emphasis is on telling a story through dance using music from shows like Chicago, Hairspray, Wicked and Rent. This class is perfect for students who love to perform on stage and prepares them for musical auditions.
Commercial Dance – This class is a strong and upbeat dance style involving elements of street and jazz.  Different genres of dance will be covered and students will learn styles shown in music videos, concerts, and TV/movies.
Hip Hop and Boys Only Hip Hop – Hip Hop is a lifestyle and attitude that has developed both musically and physically over the past 20+ years. Hip Hop is not only a fun and athletic form of exercise but it has earned respect as an influential form of dance. The hip hop student will learn techniques such as body isolations, pop-lock movement, and how to execute diverse styles and attitude.
Improv/Composition – This class will focus on the dancer finding their own choreographic voice and style.  In addition, the philosophical approach will emphasize the freedom to experiment without internal judgments.  Students will learn to generate and manipulate movement through exercises and improvisation, and will expand those skills into shaping dances. Areas to be explored include elements of movement, musical structures, narrative, partnering and site specific work, among other possibilities.
Jazz – Jazz dance is an American dance form, that evolves and changes with the latest popular styles. Students work on placement & technique while learning modern & contemporary jazz styles. Classes consist of warm-ups, floor progressions, and center combinations. Ballet is strongly recommended to be taken as a pre-requisite or in conjunction with all Jazz classes.
Pop Jazz/Jazz Funk – combines the technique of jazz dance along with other current popular dance styles. It is influenced by pop music, rap, hip hop, and funk. Our instructors bring their own creativity and energy to the mix. This type of dance is seen in pop videos and television commercial shows.
Lyrical Jazz – Highly recommend taking Ballet in conjunction with this class. This expressive form of dance blends ballet, jazz, and modern. Dramatic content and emotional expression make this a popular class.
Latin/Salsa – This class introduces you to the rhythm and timing of the music, as well as to technique in leading and following.
Partnering – This class will teach students the basic elements of partnering, exploring various tools of partnering such as listening skills, moving through space simultaneously, non-contact partnering, spatial interweaving, levels of contact, opposition, and full lifting.  Qualities of good partnership are addressed, including listening and communication skills, responsibility toward one's partner, awareness, focus on task, enabling trust, risk taking, dissolving tendencies of fear, and timing.  This class is by Director approval only.
Poms/Dance Team Prep – Students will learn the skills needed to be a part of a school pom squad. Class focuses on the lines of the body and working in complete unison with other dancers. The class will drill kicks, leaps, turns, and tricks as well as focus on flexibility and pom choreography.
Pom Funk – This is an extremely popular and energetic dance form. These classes combine aspects of both Poms and Hip Hop and will prepare you to "bring it on" and have the proper confidence and energy to perform!